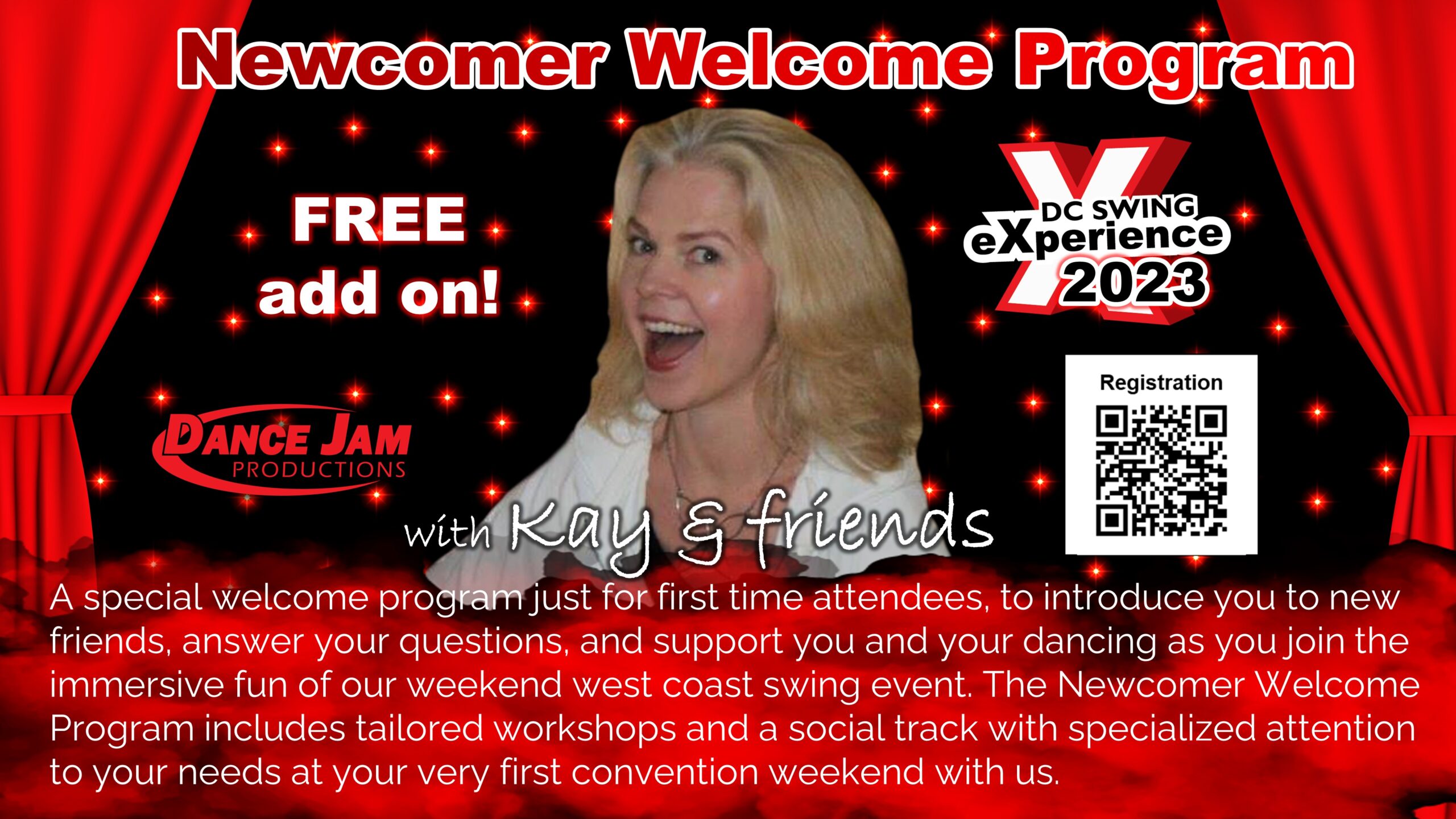 A special welcome program just for first time attendees, to introduce you to new
friends, answer your questions, and support you and your dancing as you join the
immersive fun of our weekend west coast swing event. The Newcomer Welcome
Program includes tailored workshops and a social track with specialized attention to
your needs at your very first convention weekend with us.
– We want YOU to have a great time!
Here's what you should do for your first time at DCSX:
Register for a weekend "EZpass" [on the weekend passes menu] and add the "Newcomer Welcome Program" [on the Add Ons menu]. Consider adding the All-In Mixer or a fun contest from the Competitions menu. Newcomer Jack & Jill and Pro-Am JJ Newcomer/Novice are good choices.
Reserve a hotel room at the Hyatt Regency.
Join our DCSX groups here and here on Facebook to ask questions or find roommates, and RSVP to DCSX 2023.
Entry into the popular main ballrooms for ALL contests and pro shows, AND four nights of all-night social dancing are all included in your weekend pass.
Our Newcomer Welcome Program is designed to give you what you need to have fun & feel connected on your first time with us. We include:
Newcomer Welcome Program Orientation Thursday at 8 or Friday at 6 depending on your schedule.
A sequence of skill-building L1 workshops, perfect if you already know your basics and are ready to improve your west coast swing dance skills under the guidance of specially selected national-level teachers.
Welcoming team of experienced "DCSX Mentors" ready to meet you, dance with you, and answer your questions all weekend long
A friendly warm-up session for people who enter the $5 newcomer Jack & Jill (you must register separately, in advance, for that contest) and anyone else who'd like to join
Small group open dancing and "meet & greet" social opportunities
cohort of other friendly event first-timers who can't wait to meet you and have fun all weekend together!
You should plan to arrive at DCSX comfortably before Newcomer Orientation.
Packing list:
Comfortable shoes to dance in; or you can buy shoes at the event!
Lots of changes of clothes.
A water bottle & some snacks.
Your enthusiasm for learning new things & meeting new people & embracing new experiences!
Welcome to DCSX! We hope you'll love it here. 
→ Yes! We need friendly faces to be DCSX Mentors for our new friends as we welcome them to our event. Contact Kay to volunteer to help.
Join us on Facebook! A group has been set up just for participants in this program.
For additional information about the Newcomer program contact event Co-director Kay Newhouse